Free Fonts Generator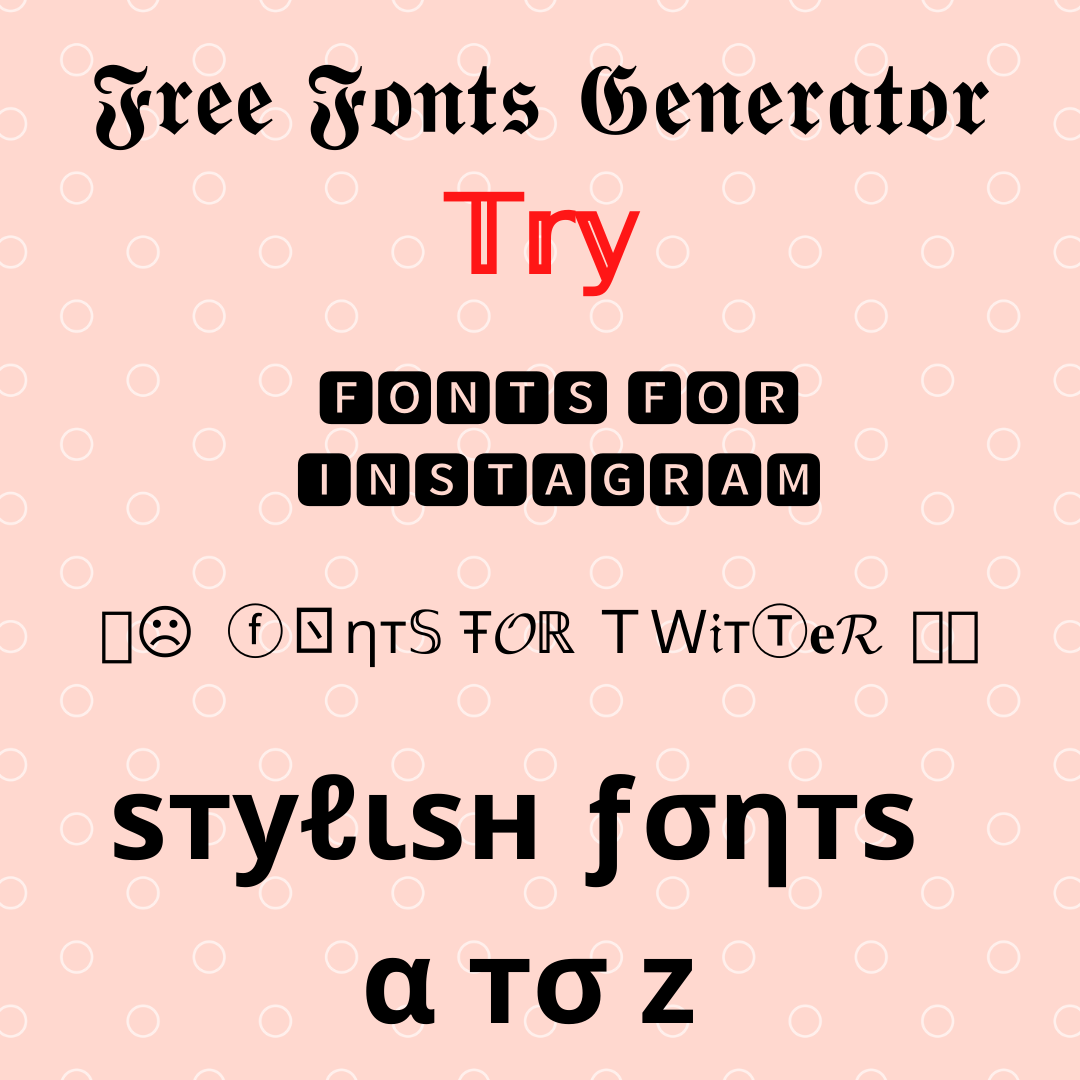 From creating a message to drafting a document, fonts are an essential part. Rather, fonts make your script worth the read and of course extremely customized and personalized. Your device and platform may have limitations. And hence the free fonts generator tool, to make you express your feelings without any bar. With the stylish font generator tool, you can simply use your favorite stylish fonts a to z on any app. Even if the in-app font's directory is not displaying the font, our generated font will still be supported and displayed. It is pretty simple to use the free font generator tool. You don't need any sort of technical knowledge, and neither do you need any sort of heavy or third-party apps to install. The font generator tool helps you directly use the platform. Without any third-party app installation, you will be able to write out your heart with flair.
How does Free Fonts Generator work?
1. A
free fonts generator
is a website. Wherein you simply need to type the website URL in your browser. You won't be prompted to download anything else.
2. Once the website is opened, you will be shown with the editor followed by a variety of a to z fonts. Just write in the textbox.
3. Your text will be shown to you in various styles a to z fonts. You simply need to copy the font and paste it any app or platform.The generated fonts work pretty well on any of the platforms.
Free Fonts Generator Compatibility and Implementation
Free font generator provides you with a wide range of compatibility across devices and platforms. You can use these so generated fonts for various purposes. Font Generator is fun and simple to implement. Just copy the stylish text fonts and paste them anywhere. Like on Facebook, Twitter, Whatsapp, Snapchat, Instagram Bio.Here are a few very popular font generation implementations:
Calligraphy Font Generator
Calligraphy to write a greeting message, to create social media posts, and to design your website. Calligraphy is used everywhere. The limitation of the in-app calligraphy is their fonts. You need to choose one of the font styles from the available ones. Have you ever felt you need the letterings that suit your mood, or personality, or at least the font that matches your handwriting? Right from your personalized texts to the formal emails, calligraphy is indeed the necessity at times. Limitations of having a particular set of calligraphy free is another issue. There are certain apps to create fancy social media posts. However, the calligraphy available for free is restrained. With our free fonts generator tool, you can transform a text into a stylish text fonts of your will. Above all, the service is absolutely free of cost.
Stylish Font Generator
Style is so personal. Do you remember a person in the class who has inclined handwriting? Well, when you receive a text from him which is so straight and in simple English, you kind of misrelate it. That's why Stylish font generator! You can choose your style so that your friends and close ones could relate to you. Also, you will be able to maintain your identity or could create your signature style.
Tattoo Font Generator
Tattoo font generator is a font style that you can create just for fun's sake. Or you know, to satisfy the secret James Bond within you! You and your friends can have coded chat using tattoo fonts. Also, you can create a dummy tattoo for yourself. You can either use it for stickers or can try out the printed tattoo with the same.
Cursive Font Generator
Well, your handwriting is your identity. And a plain text does not suit the one who writes in cursive all the time. At least with your mates, you know you can't be that straight and plain. Neither with your behavior and neither with your writing. These stylish handwriting styles a to z are missed by millennials a lot. And hence we have fixed it.
Popular Text Fonts 2021
According to the trend, the font demand increases. For instance, the cool font generation in accordance with the year 2019 would have been the PUBG name font generator tool. Of course, the demand for the same was on peak back then. With our free PUBG name font generator service, a lot many game lovers have generated themselves a cool text. The Cool font generator is the one that generates the trending fonts.
Free Fonts Generator Salients
Font Generator Copy and Paste
Generate free font online without installing any application. Simply type your text, instantly get the font that you desire and copy the font. Now, place your text anywhere you want to.
Free Font Changer
The website is a completely free font changer. You just need to type your text to see yourself how marvelously it works within no time.
Stylish Fonts For Instagram
Write your Instagram bio with style. Make your friends go aww for your and your font's style.
Stylish Text Fonts For Facebook
Type your Facebook post in stylish fonts. This will surely keep your friends wondering about your writing tool.
Stylish Text Fonts For Twitter
The Twitter bio and username is all that people see when they check your profile. With the stylish fonts, make the process other way round. Make people check profiles by seeing your username and bio style.
Stylish Text Fonts For WhatsApp
Your 'about you' in the WhatsApp and the username are what strange people identify you with. It is like your WhatsApp's first impression on strangers. Make it great. Also, 'about us' will be checked by your friends, make them jealous not only with the text but with font too.
FAQ's About Stylish Handwriting Styles a to z
What is a Font Generator?
A font generator is a computer-developed set of fonts. The fonts thus generated are either in the format of the bitmap, SVG, or Web-safe font which utilizes the "@font-face" rule of the CSS3 specification. These a to z fonts can be used everywhere and anywhere, at any time when you need them.
How can I make my text stylish?
Making text stylish is easier than ever with the stylish font generator interface that this site gives you. It is easy and clean to use. You simply have to type your text in the text box and scroll down to choose your favorite style of a text.
How can I Write a Stylish Letter on Whatsapp?
WhatsApp does not have an in-built stylish text generator. But it does support the stylish font externally. So, if you want to write in a stylish font and want to replicate it to your reader's side, then the free fonts generator site will help you out with font style a to z.
Can We Change the text Color on Whatsapp?
With a free font generator, the font that you choose here, the same will appear on the WhatsApp screen. The same color, size, and style. So you simply have to choose the color that you want to have in your chat window or for your status.
What's the Prettiest Cursive Font?
The best stylish fonts a to z, Cursive Fonts to use are:
Channel.
Birds of Paradise.
Waltograph.
Which is the Most Stylish Font?
The most loved stylish text fonts that help you make Fancy text-
King Malik Free Font
Reclaim Glory Free Font
Easter Warmth
How Do I Create a Style Name?
To create stylish handwriting styles a to z, you simply need to type alphabets in a text box. Pick up the style and copy the letters. You can save these fonts and use them for your personal purpose.